Welcome to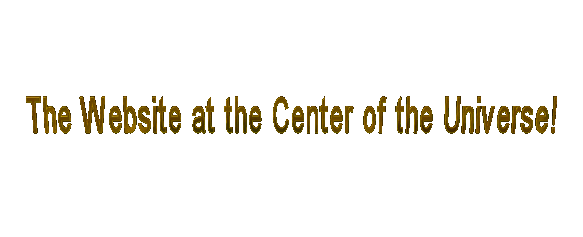 TM
© 1996
Introducing
TM
---
---
Wow! Where has the time gone?

Whether you found The Website at the Center of the Universe from the 2 hidden hotspots on maroonlagoon.com or found this page through a search engine, I want to thank you for taking a moment to stop by and visit this very special and unique spot in the internet.

While the design is probably considered primitive this is a living record of website design in the mid 90's when individual people were just starting to get access to the internet and person web pages.

And while now it may seem trivial and taken-for-granted, being able to publish my thoughts and short stories in such a graphic way to the whole world was an monumental breakthrough in technology and social communication.

This website is no longer maintained on a regular basis, so many links are probably defunct but I am quite pleased to be able to continue it's publication on the World Wide Web as both a historical record of the humble works of a relatively unkown American Philosopher and well, just for the fun of it!

Feel free to explore any and all of the nooks and crannies. There are many.

Wishing you much health, wealth and happiness,

Norm Schoonebeek



Founder of maroonlagoon.com and The Website at the Center of the Universe
"Over and Under" © 1978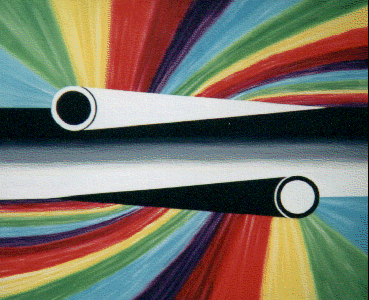 Painting I did in my senior year of college as a philosophy major at Oneonta State, class of '79 black and white - acrylics; colors - oil
Welcome to a very unique website offering a few select, awesome superpotent concepts
not available anywhere else in the world that are the result of the combined
efforts of philosophers througout the ages and other spiritualists that worked
together throughout human history on earth to increase: peace, love and joy
to loving people.
Somehow I ended up as one of the many helpers of this mission and was aided in many unusual ways to compile an astonishingly brilliant, if I do say so myself :-), compilation of philosophical contemplation like none other ever published before.
As you will find, "The Wong Wei Trilogy" combines a mind blowing mix of conservative, intellectual, liberal and imaginative ideas demolishing
many ignorant lies we have been forced to believe, fear and/or obey.
With all of the hype in marketing these days it is hard to convey the importance and significance of this work without people being skeptical.
But I know that the people that are meant to learn these pearls of wisdom will somehow be guided to take the small risk of taking the time to read this.
Best wishes to all of you seeking peace, love and joy in the world,
Norm (Stormin Norman) John Schoonebeek, Long Island, New York, USA
P.S. FYI, I chose an outer space-like background for this website and medium blue lettering, in case your browser or my website server is not providing that color arrangement.
Is this REALLY at the Center of the Universe?!
Select Below Links to change page color
(if you don't like the outerspace background)
LIGHT BLUE BACKGROUND - DARK BLUE TEXT
Easiest reading - more like traditional paper and text
BLACK BACKGROUND - BLUE TEXT
This is more like the outer space pages.
" 'I have sometimes wondered,' said Mrs Wallhausen, 'that you can still find something new for the printer. I should think that by now practically everything that can be expressed with letters has been tried.'...
...'Just the same,' mused Professor Wallhausen, 'one could express in print everything that can ever be given to humanity, be it historical information, scientific understanding of the laws of nature, poetic imagination and power of expression or even the teaching of wisdom. Provided, of course, that it can be expressed in words....'
...'But the number of the possible combinations of a given number of letters is limited. Therefore, all possible literature must be printable in a finite number of books?'...
...'This is simply a 1 followed by 2 million zeros'..."
- "The Universal Library" by Kurd Lasswitz (1848-1910), from "Great Science Fiction Stories by the World's Greatest Scientists" published by Donald I. Fine, Inc © 1985.
Introduction to The Wong Wei Trilogy
A New Zen of Tennis for the 21st Century
Toi / Smithereens / Cured - Brainstorm II
Conclusion Delusion
Computers, Disney, Space Travel, Tex Murphy
call me old fashioned, but I just love this stuff!
Special thanks
My philosophy background
How to contact me
Quadrillion
Rug rats, marsupials and otherwise have visited this website since November '96
return to Maroon Lagoon home page
---
---
"All day you are ALDAI! - awareness love desire alright immortal"
"The word luff is usually not said but felt."
(love-understanding-freedom-forever)
God is LAW - Love Awareness Wisdom
NVCF - non-violence, compassion, fun
Genius is making work fun and still getting the job done!

Disclaimer:
1) The relationship between the written work of Norm Schoonebeek and the people or organizations linked to in this website is only the opinion of the author of the website, Norm Schoonebeek.
The linked people or organizations have not reviewed or approved of this website or the author's ideas or beliefs.
2) location of links relative to other links in this website does not imply any known relationship between adjacent or near links and may or may not be coincidence.
This website is no longer rated by the RSAC
Date of last page modification may or may not be accurate depending on the page